Full 360° green multi-line laser
The PM 30-MG gives precise and fast 360° aligning, leveling and squaring
Compact and eccentric design multi-line construction laser with flexible mounting options saves time for levelling and alignment applications.
Features and functions with the jobsite in mind
Eccentric design
Compact shape
Fine adjustment
Flexible mounting
Compact eccentric design with fine adjustment for easy squaring and fast set-up
Squaring of drywall tracks
The PM 30-MG uses an eccentric design to position the vertical laser on the side of the tool. This allows you to place the PM 30-MG over your reference point when performing squaring of drywall tracks and achieve a perfect 90 degree angle.

Installing suspended ceilings
Ideally suited for working at height or installing suspened ceilings, the PM 30-MG is supplied with an anti-fall cord to help improve safety. The optional wall mounting unit and magnetic bracket mean you have a full range of mounting options.
Mounting to steel frame structures
Precision is critical for measuring and alignment, so it's important that your tool doesn't move during a job. The PMA 89 magnetic bracket is the strongest in the market and makes working in steel frame structures easier and gives you confidence.
More productivity and more precision
When choosing a laser level there are many factors to consider. What are you building, are you laying decks, house foundations, installing drywalls or piping and fittings? Is the work indoors, outdoors, or maybe even a combination of both?
The answer to these questions will help you decide which is the right laser for your needs, and here, Hilti has a broad range of line, distance and rotating lasers that meet the diverse needs on the construction site.
The Hilti advantage
The PM 30-MG multi-line construction laser builds on the sucess of the established PM 40-MG by adding new features that increase flexibility and functionality for interior applications.
Using an innovative, eccentric design, two green lasers are positioned on the outer surface of the the PM 30-MG to give full 360° coverage which allows contractors to easily position marker points for laying out drywall tracks or channels for piping and cabling. Aiding you in the precise alignment is a fine adjustment knob, which moves the base plate of the PM 30-MG, making it the perfect tool for interior applications.
Able to work at distances of up to 50m (with receiver), it's suitable for setting out drywall track on floors (squaring), walls or ceilings, leveling suspended ceilings, transferring reference heights and aligning pipes as well as doors and windows. 
Whether it is the PM 30-MG or PM 40-MG you prefer, pick the tool that fits you best.
Discover the PM 30-MG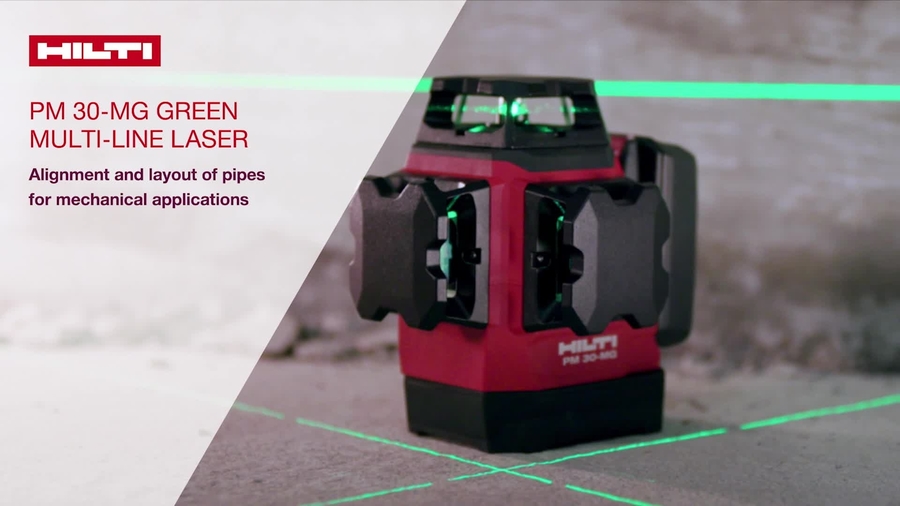 A range of options for every application
PMA 90 wallmount and magnetic bracket
The PMA 90 is especially designed to be used for suspended ceiling applications. The sturdy bracket includes integrated height adjustment and a convenient screwing mechanism for levelling against the wall and is perfect for fast and precise set-up. Use it with our PMA 92 anti-fall chord for extra safety.
PMA 89 magnetic bracket
The magnetic bracket PMA 89 allows you to position your multiline laser on any magnetic surface. The strong magnets help to keep the laser safe in case somebody bumps into it. With its the integrated feet you can easily work on the floor. And with it's 1/4" and 5/8" thread the PM 30-MG can be mounted on any tripod.
PMA 31G receiver
With it's outstanding visibility the green PM 30-MG has an excellent working range. In bright light conditions or over longer ranges, the PMA 31G allows you to work precisely. The intuitive sound interface helps you to easily find the center of the laser beam. 
PMA 20 tripod
Our compact tripod PMA 20 with 1/4" thread is extendable up to 1.2 m. It allows the user to set up the system quickly anywhere on the jobsite and work faster. The lightweight tripod can be easily carried.
HELPING YOU WITH YOUR DAILY BUSINESS
Services to keep you performing
You can't predict damage to your lights, but when it happens you'll be left in the dark.
To help you avoid productivity issues on the jobsite our range of services help you avoid these additional costs and keep you working.
YOUR 24/7 PARTNER
Whatever the job, wherever you are, our teams are always available to help you get the job done
We have dedicated account managers and technical consultants who will meet you directly at the jobsite and offer solutions instantly.
Our customer service agents can provide information, take orders, arrange deliveries and repairs all in just one phone call. And, you have instant access to our products at our many Hilti Stores, where you can try out our tools and inserts and get further advice.