Move cursor over image to zoom.
Click on image to zoom.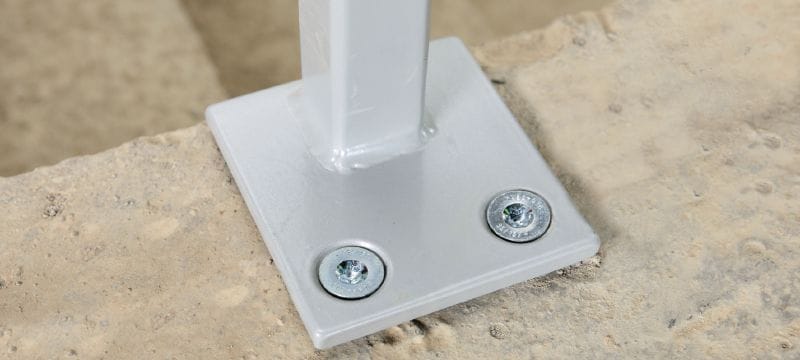 Move cursor over image to zoom.
Click on image to zoom.
HUS4-C Screw anchor
New product
Item #r12910873
Ultimate-performance screw anchor for fast and economical fastening to concrete (carbon steel, countersunk head)
Material, corrosion: Carbon steel, zinc-plated
Head configuration: Countersunk Torx
Approvals / test reports: DIBt, ETA, Fire, FM (Factory Mutual), Seismic, VDS
More technical data
Features & Applications
Features
Up to 2x faster than wedge anchors – fewer work steps help you save time on every single fastening
Quicker and easier to install – no cleaning, no high-accuracy torque wrench and no hammering required
Improved setting with less blocking in the toughest concrete – thanks to smaller core diameter and new thread design
Extensive approvals – ETA (EAD 330232) with seismic; FM and VDS
Perfect for through-fastening – countersunk head to sit flush with the baseplate surface
Applications
Fastening non-structural baseplates, platforms, staircases, balconies and industrial equipment to concrete
Technical data available for fastening to hollow core slabs, lightweight concrete, masonry and aerated concrete, as well as fire resistance and stand-off installation with grout
Suitable for permanent fastenings in dry, indoor environments and temporary outdoor use
For approval or certificate information, please see individual items.