INDUSTRY LEADING HILTI TOOL SERVICE PROMISE 2-3-3

2 YEAR-NO COST WARRANTY
Spare parts ※Labor Cost ※ Pick-up & Delivery charge --> ALL FREE !
·         Convenient – free the hassle from repetitive payments for repair
·         Full cost-control -No extra costs within warranty
                     - Lower total construction costs due to the savings from repairs
                     - Repair costs are capped after warranty

Wear & Tear coverage 
Parts subject to wear & tear under normal usage will be repaired or replaced for free within warranty 


Capacity guarantee
Battery will be replaced for free if the capacity is below working level within warranty to ensure your productivity

3 MONTH-REPAIR QUALITY GUARANTEE
CONFIDENCE IN OUR QUALITY REPAIR
Full Functional Repair
·         Examine all the parts to undergo repairs or replacements to restore tools' performance instead of partial repair
× Partial repair or replacement of parts will easily lead to reduction in tools' performance and lifetime and increase the repair frequency 
Hilti Tool Service - Extra Miles For Your Tool Repair
BRAND NEW : 3 DAY OR FREE REPAIR TURNAROUND TIME PROMISE
WANT TO SAVE THE EXTRA TIME FOR QUOTATION? - PRIORITY REPAIR SERVICE "3 DAY OR FREE"

Pre-approval to us – No quotation for repair
Time Promise to you  - 3 Day or Free
Efficiency for both  - WIN WIN ! 
REPAIR COST LIMIT (RCL)

·         Repair costs are capped after warranty
·         Repair costs will only be at RCL or lower
*For each tool's RCL, please download the document from below download section.
HILTI TOOL REPAIR SERVICE – 3 DAYS OR FREE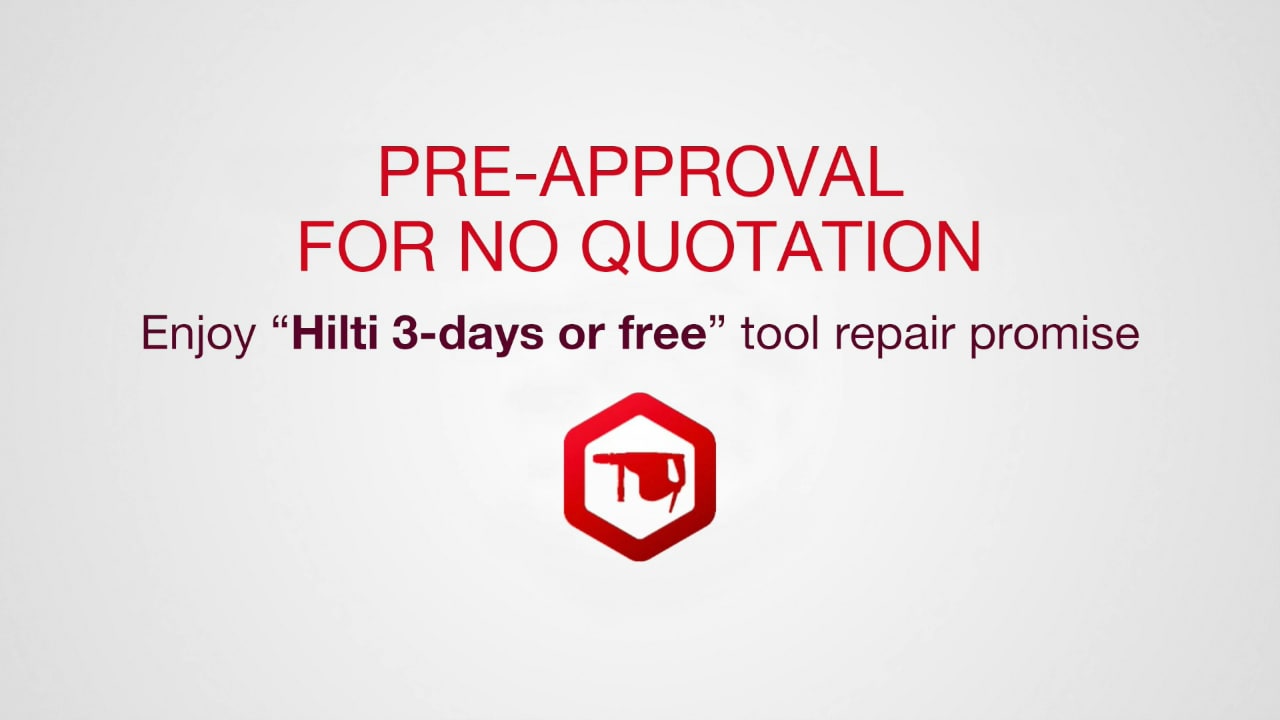 *Hilti standard Terms and Conditions of Sale apply.