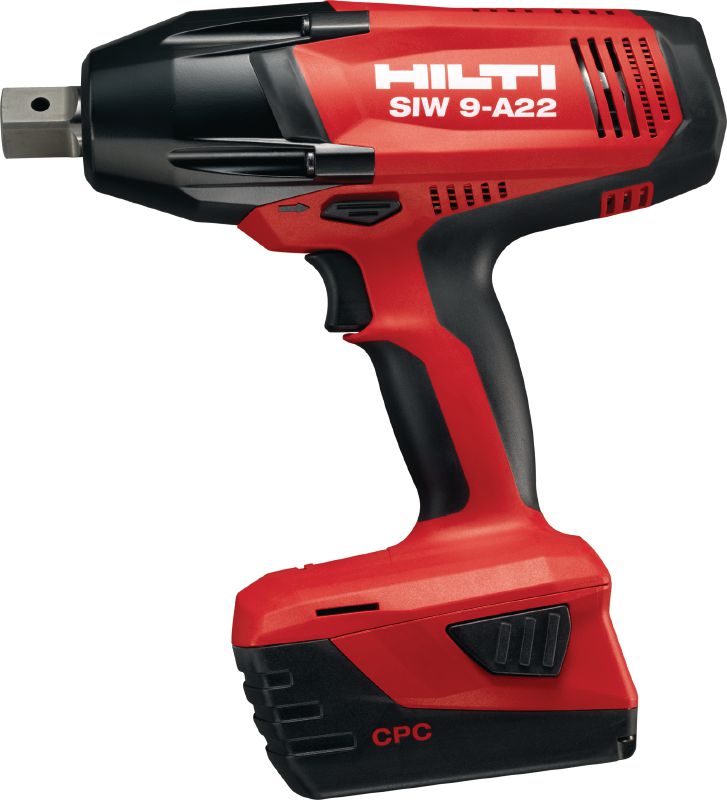 Move cursor over image to zoom.
Click on image to zoom.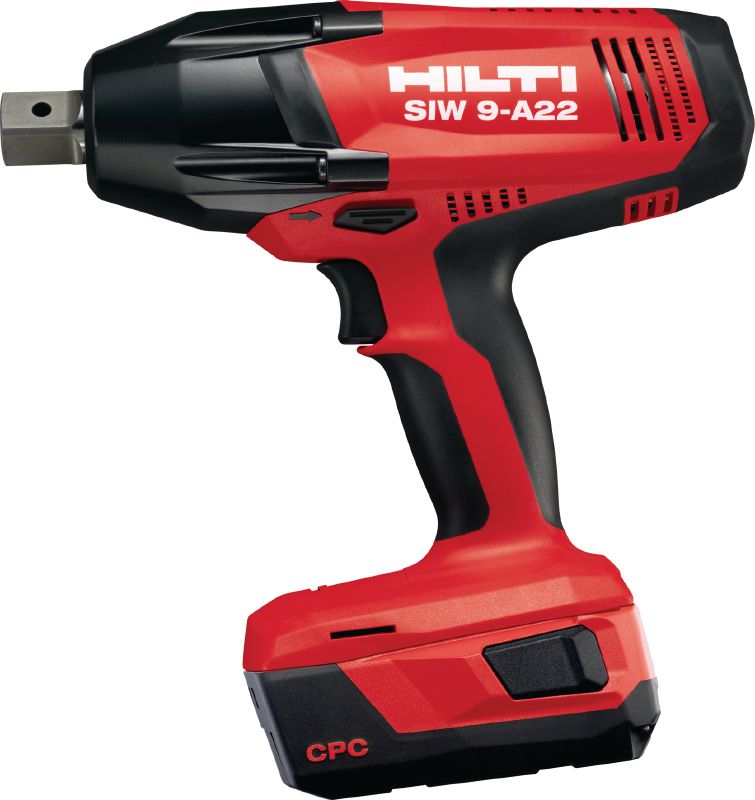 Move cursor over image to zoom.
Click on image to zoom.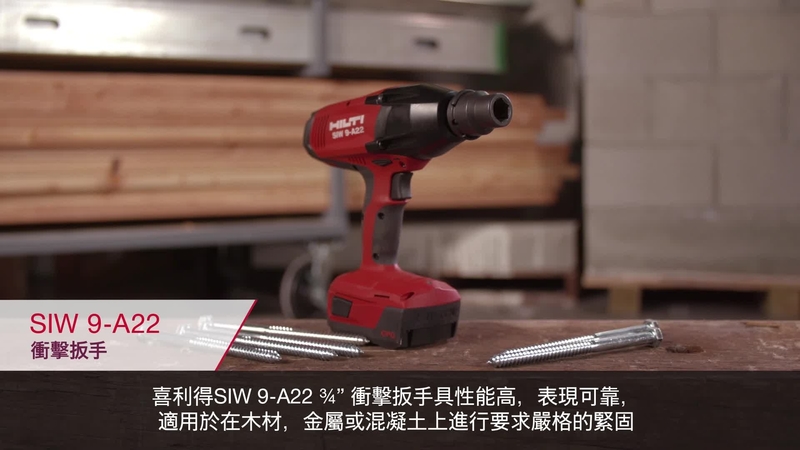 SIW 9-A22 Promo (16:9, HK)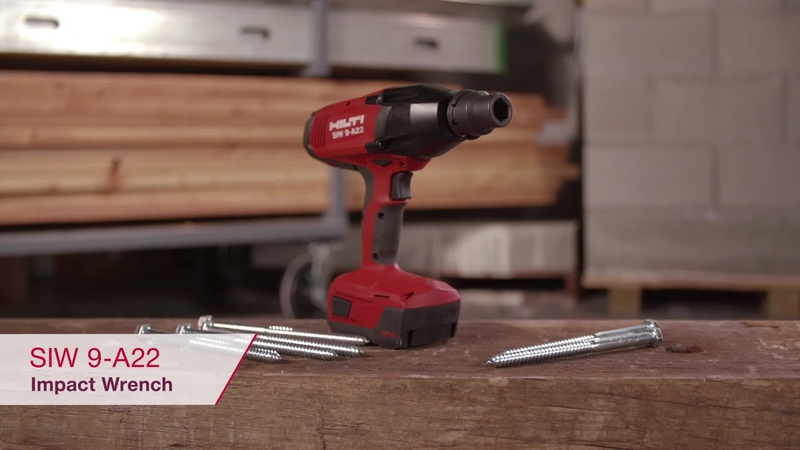 SIW 9-A22 Promo (16:9, EN)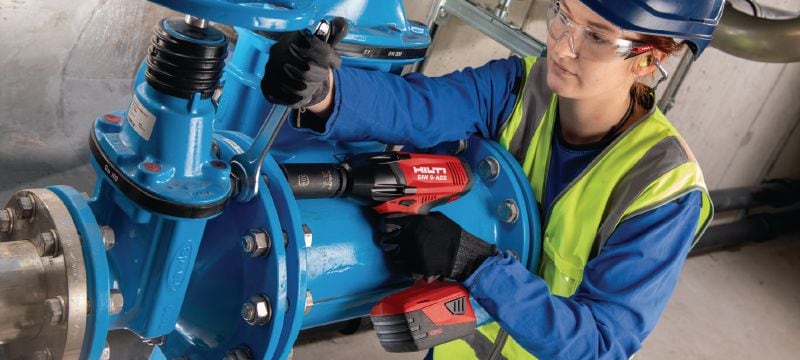 Move cursor over image to zoom.
Click on image to zoom.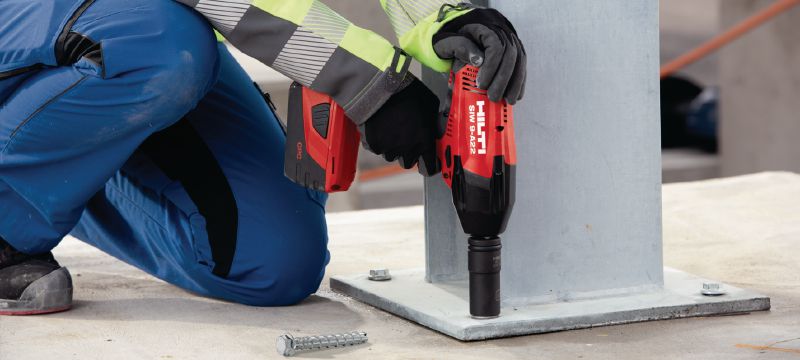 Move cursor over image to zoom.
Click on image to zoom.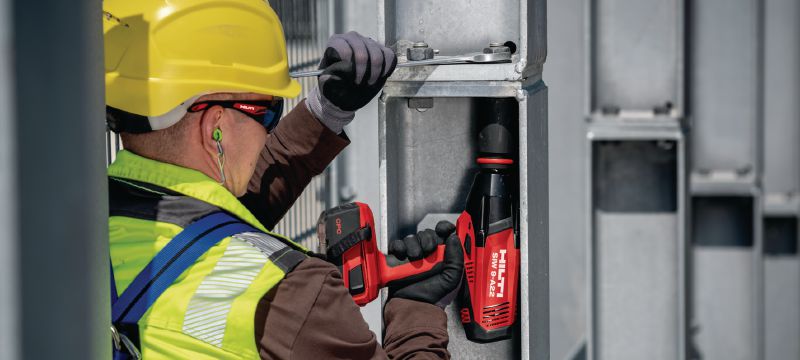 Move cursor over image to zoom.
Click on image to zoom.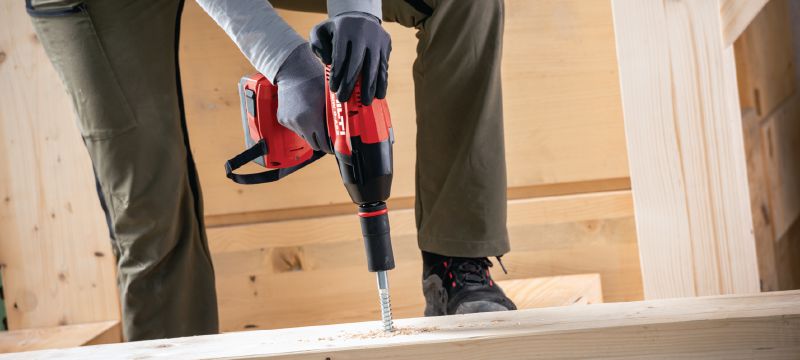 Move cursor over image to zoom.
Click on image to zoom.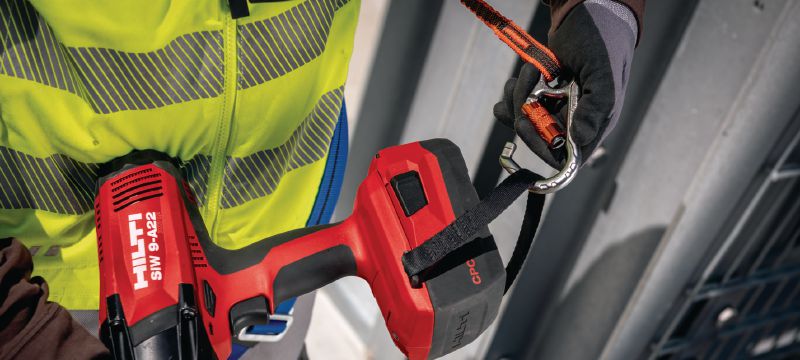 Move cursor over image to zoom.
Click on image to zoom.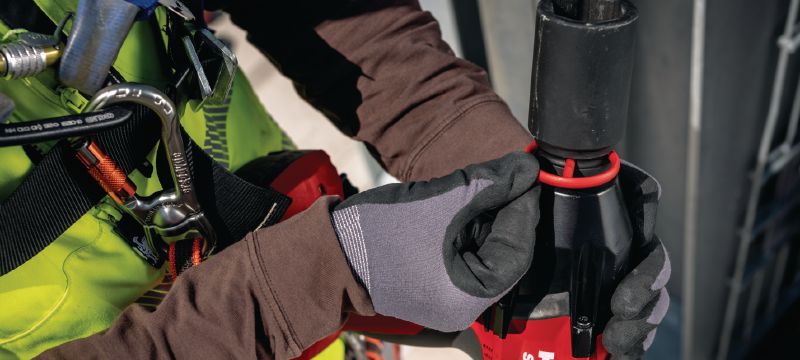 Move cursor over image to zoom.
Click on image to zoom.
SIW 9-A22 3/4" Cordless impact wrench
New product
Item #r4838535
Ultimate-class 22V high-torque impact wrench with 3/4" through hole anvil for bolting and anchoring
Anvil type: 3/4" through hole
Maximum torque: 800 Nm (1)
Nut-busting torque: 875 Nm
More technical data
Features & Applications
Features
Robust metal gearbox housing for demanding jobsite conditions
High-strength steel 3/4" square anvil drive with thru-hole retention for long lifetime
Durable and user-friendly E-spring lets you fit impact sockets in one step
Low vibration values due to double-hammer gearbox allow long periods of productive work
Centred balance point for precise handling in all working directions
Applications
Tightening and releasing M16 to M24 nuts and bolts
Tightening and releasing 5/8" to 1" nuts and bolts
Assembling steel profiles, formwork, timber or precast concrete components
Pre-tightening bolts on the flanges of large-diameter pipes
Pre-tightening nuts and bolts up to 1-1/4"
Services
Hilti Tool Service
3 days or free
3 or free: get the tool serviced and cleaned in 3 days flat or there is no charge
Servicing is free of charge for up to 2 years, including wear and tear, pick-up and delivery
After the no-cost period, repair costs are capped at max. 40% of the price of an equivalent new tool
3-month no-cost period after each repair
More information about Tool Services
Fleet Management
We manage your tools so you can manage your business.
More information about Fleet Management
High torque cordless impact wrench
The SIW 9-A22 ¾" high torque impact wrench gives you corded performance with cordless flexibility
With a robust metal gearbox housing and a 3/4" high-strength steel through hole anvil, the SIW 9-A22 gets your heavy duty applications done.
Developed to meet the demands of the jobsite
Metal
Concrete
Wood
High Torque for bolting applications in structural steel
With a rated torque of 800Nm, the SIW 9-A22 can be used for structural bolting applications tightening bolts up to M24 in size. The gearbox housing and high-strength ¾" anvil make the tool robust enough for jobsite conditions.

Designed to increase accessibility and control
The slim diameter and integrated LED lights of the SIW 9-A22 make it easier to work in small spaces, while the handle and trigger have been developed to improve control for applications such as tightening pipe flange bolts. 

New double hammer mechanism reduces vibrations
For setting larger diameter screw anchors such as the Hilti HUS3-H14 and Hilti HUS3-H10 we developed the double hammer mechanism that reduces vibrations, helping to increase safety in serial applications when working in concrete. 
Features that help increase safety and productivity
Helping ensure operator and jobsite safety, the SIW 9-A22 uses an E-Spring that connects in a through-hole in the anvil to keep sockets in place, an additional retaining strap can be used to protect if the tool is accidentally dropped.

Why the need for a high impact torque wrench?
It's impossible to overstate the impact that cordless power tools have had in the construction, mechanical and engineering industries, and the cordless impact wrench is no exception.
Unlike cordless drill/drivers and impact drivers, which excel at drilling holes and driving screws, the impact wrench is specially designed for tightening and loosening various hex-head bolts, nuts and lag screws. The difference with an impact wrench it that it uses both rotational force (torque) and short-burst concussive blows or impacts which are measured in mili seconds, to deliver high power in a small tool. The tool uses a clever housing design so that the reaction force is absorbed in the housing, which allows operators to perform can do one-handed operations.
The Hilti advantage
The Hilti range of cordless impact wrenches, which includes the SIW 22T-A and SIW 6AT-A22, has been expanded to meet the demands of heavy-duty applications. The new SIW 9-A22 cordless impact wrench produces torque outputs of 800Nm, which is more than enough muscle and performance for heavy-duty bolting and anchoring applications in steel, concrete and wood.
The SIW 9-A22 has a high-strength steel ¾" anvil with a 'through-hole fixation'. This approach uses the Hilti E-Sprint to attach big sockets on to the anvil, helping to ensure they stay in position during intense periods of work and helping to reduce the risk of heavy sockets falling and causing a hazard for other workers on the jobsite. The Hilti E-Spring means attaching sockets can be complete quick and safetly, ensuring no downsides in productivity. 
To increase operator productivity, the SIW 9-A22 uses a double hammer gearbox. This new technology increases the tool lifetime and reduces the level of vibrations. Together these combine to help minimise user fatigue and increase the amount of time the tool can be used by a single operator.
As you'd expect, all Hilti cordless tools come with 2 years of wear-and-tear coverage and, if your tool does break, we'll repair it within 3 days – all at no cost, and giving you peace of mind.
HIGH TORQUE CORDLESS IMPACT WRENCH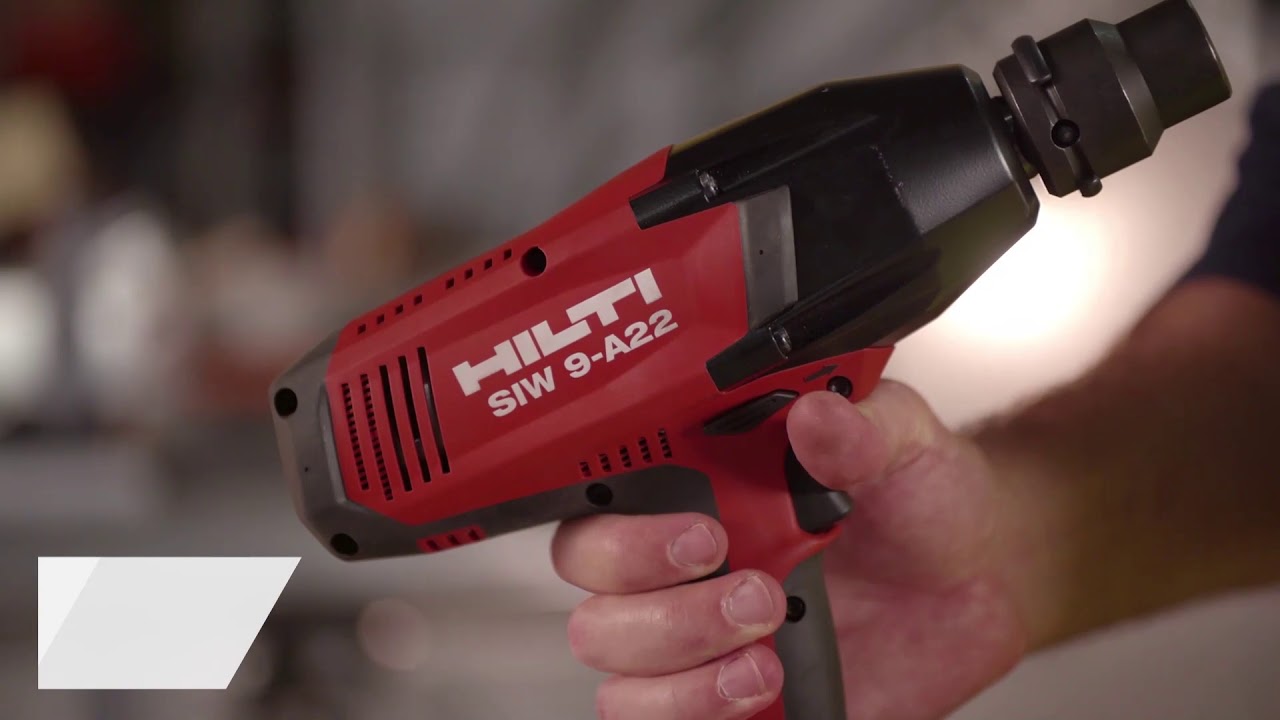 Hilti impact-ready sockets are designed for demanding applications
Hilti ¾" long impact sockets SI-S ¾" - L
¾" long sockets designed for impact wrenches are the universal solution, that gives you enough space within the sockets to drive it on your anchoring and bolting applications.
Hilti E-Springs
Only a through hole fixation ensures big sockets to stay on the anvil, not being a hazard for other workers on the jobsite. With the new Hilti E-Spring, through-hole socket fixation can be done in one step, ensuring no downsides in productivity. 
HUS checking gauge
Lets you quickly check the wear of a HUS screw anchor and indicates whether the screw anchor can be reused. Can be fitted to the SIW 6AT-A22, SIW 22T-A and SIW 9-A-22 cordless impact wrenches
HELPING YOU WITH YOUR DAILY BUSINESS
Services to keep you performing
Unforeseen or hidden factors like lost or damaged tools and repair costs can lead to serious productivity issues on the jobsite.
Our service offerings help you avoid these additional costs and keep you working.
24/7 partner
Whatever the job, wherever you are, our teams are always available to help you get the job done
We have dedicated technical consultants who will meet you directly at the jobsite and offer solutions instantly. Our customer service agents offer advice, take orders, arrange deliveries and repairs all in just one phone call. Get instant access to our products at your nearest Hilti Store, where you can try out our tools and inserts and get further advice.